IN THE RARE INSTANCES when a work of art transcends others in its field, it achieves the distinction of being proclaimed a masterpiece. Such works set a new standard, and include classics such as Dante's Divine Comedy, Da Vinci's Mona Lisa, and, of course, Metallica's Master of Puppets. The automotive realm has its stand-out performances as well, and these are not limited to haughty exotics from across the pond. The hobby's mandarins may sniff at the notion, but classic American muscle also has a well-deserved place in this pantheon.


Robby Hooper's 1964 Chevrolet Corvette is a prime example of a masterwork in the automotive medium. As the owner of Corvette Masters, a performance and repair shop in Maitland, Florida, Hooper was in the unique position to build something truly special. At the outset, he built the car "to see what my shop could do with what we know." The end result of his labors is the over-the-top C2 seen here.
Hooper's relationship with this midyear began at the 1998 Super Chevy Show in Gainesville.
A lifelong Corvette enthusiast, whose bona fides include having owned a '69 T-top coupe since he was 18, Hooper recognized the C2's distinctive silhouette beneath a car cover. After learning that the Vette was nearly identical to his own blown alcohol '65 coupe, save for its unique paintjob, Hooper struck up a friendship with the car's owner, Bruce Harvey. Several years and several owners later, Hooper learned that the car was for sale and jumped at the opportunity to own it, selling a Pro Street '57 Bel Air he was building to finance the buy.


As purchased, the C2 was a show car that had been converted into a race car, so it needed some sorting out. Hooper set out to revamp everything and return it to street-machine status, with one notable exception: he decided to leave the car's striking finish alone. After all, his mission was to follow his shop's creed to build cars that are "show-car quality, Pro Mod fast."
This Corvette is immediately differentiated from its more conventional brethren by its Pro Street styling. The body is all-original from the firewall back, and it sits on a square-tube chassis. Its front end is a racing-style fiberglass piece with functional headlights in the bumper. The arresting custom graphics and hand-airbrushed emblems were painted by former owner Harvey. In the back, a wheelie bar and a cutoff switch serve to reaffirm this car's nature as a performer.

In order to produce power in accordance with the car's extreme appearance, Hooper relies on a big-block Chevy topped with a monster huffer. The foundation of the powerhouse engine is a Bowtie block displacing 556 ci. Inside, Crower rods connect a set of Ross blower pistons with the Cola crank. All of the machine work and assembly were performed by Hartline Racing, owned by Dave Hartman. The pièce de résistance is a 12-percent-overdriven Littlefield 14-71 supercharger, which is topped by a BDS "bird catcher" hat.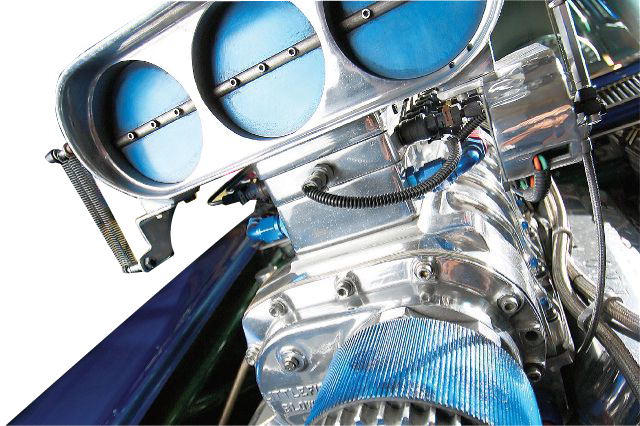 Fueling duties are met by a custom electronic fuel-injection system designed with the help of Craig Railsback from BDS. This trick setup implements 16 32-lb/hr injectors and a 12-gallon fuel cell, all controlled by a FAST computer. The result is massive power output that's still streetable: Hooper notes that the engine will idle at 850 rpm-with the air conditioning on.
Compressed air and fuel are force-fed into a pair of O-ringed Brodix Big Brodie 320cc cylinder heads with Ferrea valves. These are affixed with SCE copper head gaskets for a boost-friendly 9:1 compression ratio. The camshaft is a BDS solid roller with 274/284-degree duration at 0.050 and 0.646/0.663-inch lift. Rounding out the valvetrain are Comp Cams pushrods and solid lifters, as well as K-Motion triple valvesprings.
Supporting mods include an MSD 7AL ignition system and a Moroso anti-cavitation oil pump. Exhaust gasses are expelled through custom headers with 2 1/2-inch primaries and a set of 4-inch sidepipes.
Although the blown-EFI combo is estimated to be good for more than 1,000 hp and 1,000 lb-ft of torque, Hooper built the car primarily for cruising and shows, so he has not yet taken it down the dragstrip.

Such bestial force necessitates a significantly beefed-up drivetrain, and this Vette's gear is up to the task. A Turbo-400 transmission with a reverse manual valve body transfers the power rearward. It's outfitted with a Turbo Action 3,000-rpm-stall torque converter with balloon plates and shifted with a TCI cheater shifter. A 3-inch steel driveshaft connects it to a Ford 9-inch rearend with a 4.56 spool center section to put the power to the ground.
The staff at Corvette Masters was tasked with not just setting up this Corvette to go fast in a straight line, but also making it usable for street driving. To achieve this goal, the chassis features Strange struts up front as well as a custom four-link rear suspension. Billet Specialties wheels are wrapped in Mickey Thompson Sportsman tires at all four corners, with notably massive 33-inch meats out back. Wilwood front and rear disc brakes help rein in the fun on the street, and steering is controlled with a rack-and-pinion system, implausibly sourced from a Ford Pinto.
With a background in custom vans and hot rods, Hooper has made strides to complement the attention-grabbing exterior with an equally distinctive cockpit. A pair of sport buckets from a C5 Corvette position the occupants behind a custom billet dashboard outfitted with Auto Meter Cobalt gauges. Other handmade components include the center console, the waterfall between the seats, and the Corvette-flag door panels. The audio system includes a Dual combination CD/DVD/Navigation head unit with JL Audio amplifiers and a subwoofer for added presence. A Billet Specialties steering wheel, silver carpeting, and a rollcage are among other touches that add flair to the interior. According to Hooper, this unique interior was hurriedly assembled in-house at Corvette Masters before the Woodward Dream Cruise for a mere $200, excluding the accessories.


The definition of what constitutes a "streetable" car is often stretched to include all manner of vehicles. However, this C2 is exceptional for its state of modification in that its street time is not limited to the occasional trip to and from the trailer. "This is a street car, not a piece of automotive jewelry," explains Hooper.
Apart from the need to shift manually, Hooper assures us that the Vette is easy to drive on public roads, and that he does so regularly. "I drive it to cruises to be with other Corvette and musclecar people, and to see the young kids' looks and to let them know to never stop dreaming. They, too, can build and drive their dreams."



ENGINE:

Displacement 556ci Bowtie Block
Compression Ratio 9:1
Heads Brodix Big Brodie 320cc
Valves Ferrea
Camshaft BDS solid-roller (274/284-deg duration at 0.050, 0.646/0.663-in lift, 110-deg LSA)
Pistons Ross blower
Crankshaft Cola
Rods Crower
Intake Manifold BDS Competition
Fuel System Custom EFI tuned by Corvette Masters
Fuel Injectors 32-lb/hr
Ignition MSD 7AL
Littlefield 14-71 supercharger

HORSEPOWER:
Well over 1000hp and 1000lbft torque

EXHAUST:
Custom headers with 2 1/2-inch primaries and 4-inch sidepipes

TRANSMISSION:
Turbo-400 with reverse manual valve body
Torque Converter Turbo Action 3,000-rpm stall with balloon plates
Driveshaft Custom 3-inch steel

SUSPENSION:
Front Suspension Strange struts
Rear Suspension Custom four-link
REAREND: Ford 9-inch with 4.56 spool

BRAKES:
Front Brakes Wilwood discs
Rear Brakes Wilwood discs
WHEELS/TIRES:
Billet Specialties
Front Tires Mickey Thompson Sportsman 26x7.5-15
Rear Tires Mickey Thompson Sportsman 33x21.5-15

FUEL:
Octane 110